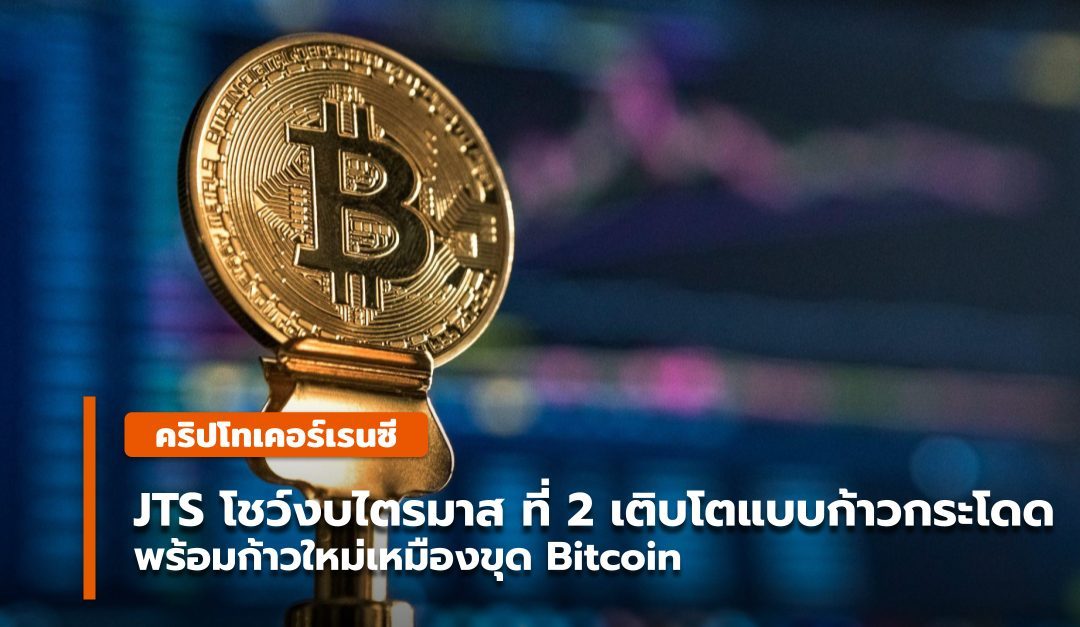 JTS Reveals 2Q Financial Statement with Exponential Growth of Revenue and Net Profit together with A New Journey of Bitcoin Mining
Jasmine Telecom System Public Company Limited announced its financial statement for the second quarter of 2021, revenue from the Company and its subsidiary increased by THB 318.21 million compared to the second quarter of 2020 and increased by THB 396.35 million compared to the first quarter of 2021 or 1,157.90% after the 99.99% of share purchasing in JasTel Network Company Limited ("JasTel"), which share purchasing operation was completed on May 31, 2021.
The operating result in second quarter of 2021 had been ended on June 30, 2021, which the net profit of the Company and its subsidiary was THB 37.32 million, increasing THB 28.47 million or 321.69% compared to the second quarter of 2020 and increasing THB 27.09 million or 264.81% compared to the first quarter of 2021.
JTS's New Step
Jasmine Technology Solution Public Company Limited, a new name of the Company, will be used instead of Jasmine Telecom System Public Company Limited to conform with the current business in the organization, already offered to the Board of Directors meeting on August 9, 2021, preparing for Extraordinary General Meeting of Shareholders on November 8, 2021.
Due to an uncertain new wave of Covid-19 pandemic affected on economic activity in Thailand, the Company is looking for new business investing in the long run and enabling to make new profit for the Company despite of an indirect impact on the Company.
JasTel Network Company Limited, a subsidiary of the company, will operate Bitcoin mining business with THB 156.7 million of investing value which Bitcoin mining machines had gradually been ordered and 500 machines would completely be installed within the third quarter of 2021. The Company had studied about Bitcoin and caught sight of a great opportunity that some Bitcoin mining rewards will be sold, and another will be kept wherewith the Company expects to perceive the profit from this business continuously.
The Company is preparing to expand the second phase to add another 5,000 machines in early 2022, aiming to use the area of Industrial Estate with the availability of the site and electrical infrastructure for adding more altogether 50,000 machines before the next halving by 2024, resulting in 5 Exahash/s of Company's mining capacity or approximately 5% of world's mining capacity as well as being the largest center of Bitcoin Mining Farm in Southeast Asia.
For the issue of environmental impact, mining bitcoin makes no pollution to the environment as electric power is the main energy, produced by the public authority and certified by Environment management System according to ISO 14001. To this regard, it is under negotiation weather using renewable energy such as Solar Energy and Electricity produced from natural gas which it can reduce the cost and protect the environment as well.