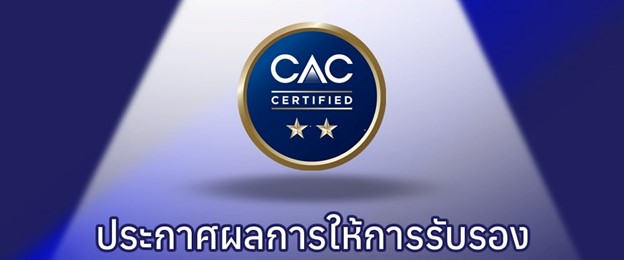 JTS Expresses its Gratitude to Director, Executives and All Employees for Playing a Crucial Role, Resulting in Being Certified by CAC for the First Time
JTS has achieved certification under the Thai Private Sector Collective Action Against Corruption (CAC) program, demonstrating its commitment to anti corruption as its first time to apply for and successfully achieve certification for the first quarter of 2023, with a three-year renewal cycle.
Both the Company and its subsidiaries operate with transparency and recognize the importance of  combating corruption in all forms, complying with the law and contributing to the betterment of society. JTS group also supports employees in carrying out their duties with integrity and being responsible citizens.
You can review the Anti-Corruption Policy at Anti-Corruption Policy to understand the guidelines for preventing and combating corruption issues within the Company and its subsidiaries. The aforementioned policy not only demonstrates its commitment and responsibility to creating fairness for all stakeholders, but also serves as the foundation for the sustainable growth of its organization.